Food & Beauty
http://annelibarcelona.bloggsida.se/kategori/skonhet-i-skafferiet

I've had a month of low energy, cold and an allergic reaction to medication, so I found this wonderfully invigorating recipe on Smothie. After a few days of ingestion of this, I feel that the energies are on the way back, maybe something for you too. Super fresch and tasty! Yum!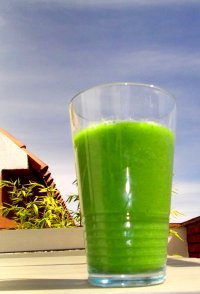 Green smoothie
1 large glass

A big handful of spinach leaves
1 apple
1 kiwi
½ celery stalk
½ lemon, zest and juice
A big piece of ginger
A puff of cinnamon and / or cardamom
Mix everything to a smooth smoothie, with about 2 cups water (and / or applejuice)
Oh how pure!